Knee Pain
Knee pain holds back activity and only worsens over the years for those who live with it. We don't believe anyone should accept a poor quality of life from chronic pain. Advanced Regenerative Medicine offers natural therapies for knee pain. We help afflicted athletes and active individuals escape their pain. Experience relief without invasive surgeries and addictive opiates. Take back your life from knee pain with Advanced Regenerative Medicine on your side!
Effective Knee Pain Services
The All-Natural Alternative to Knee Surgery
Our orthobiologic approach to Knee Pain Treatment in USA helps rebuild damaged tissue and get you back into the activities you love. Arthritis and sports injuries create progressive knee pain that leads to:
Our regenerative services organically repair damaged bone and cartilage. We can beat your pain without surgery resulting in lengthy recoveries.
Our Therapies
We have over 30 years of success with our natural healing approach. Let Advanced Regenerative Medicine help you find a therapy that's right for you!
Is the Process Successful?
Reduced pain is important. Yet we measure the success of our approach by how much we can naturally improve your quality of life. Yes, your pain will significantly decrease. But you also experience more mobility and flexibility that gets you active again.
What Knee Pain Can Orthobiologics Resolve?
The knee is the largest joint in your body. It is so complex that even the slightest amount of discomfort can leave you out of commission. Our natural regenerative therapies help you avoid inevitable knee replacement surgery.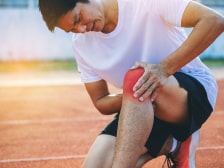 Sports activities are some of the most common causes of knee pain and knee injuries. Love for the sport can yield results on the field. Yet, we often meet athletes that dove too hard into their passion and now live with chronic knee pain. Our regenerative specialists help you overcome your pain and get you back to dominating the field.
Ligament injuries to the knee slow down the weekend warrior or person with an active lifestyle. In some cases, knee tears and sprains can lead to lasting damage that restricts your ability to live the life you want. Advanced Regenerative Medicine's natural approach repairs damaged bone and tissue. Our therapies help you get back into daily activity.
Who Can Advanced Regenerative Medicine Help?
We want to meet you if you're a candidate for knee surgery due to the following issues:
Request Your Consultation With Advanced Regenerative Medicine, Today!
If you think you're a candidate for our orthobiologic solution to knee pain, the specialists of Advanced Regenerative Medicine are ready to help! Our natural approach can help you relieve your pain for the long term and get back to being active. Schedule your consultation today!